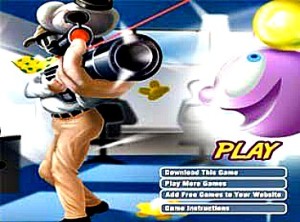 Sometimes you just need to play your stress away. This stress relief game is called Stress Relief Paintball and it's from gamesdash.com.
Games and game play can be very effective stress relievers. Especially against the daily stress at work that's not life altering, but is most certainly stressful. Games allow you to clear you mind of stressful thoughts. Hopefully you can play the game below during a work break.
You probably remember this paint ball stress relief game. Well, this is the good-old tried and true version. So go ahead and relieve some stress.
Play the Paintball Stress Relief Game
Find your inner peace by learning how to relieve stress naturally. Meditate, daydream or just let your mind go. It helps you relieve stress. Visit our stress relief videos page and allow your mind to find relief from your everyday stresses. All you have to do is be willing to let go.
You can also try breathing exercises for relief from any stress or tension. Breathing exercises are another effective stress relief technique to help you learn how to relieve stress naturally, and breathing exercises can provide immediate relief from stress and anxiety.
Yoga also offers a series of breathing exercises. Our yoga page provides a link to some very good yoga pose posters and other teaching tools to help you relieve stress using yoga. Good yoga illustrations for beginners can be hard to find. The yoga posters and the Step-by-Step Yoga DVD are very descriptive and useful for beginners.
If you just want to focus on relaxing our relaxation exercises are very effective stress relief positions. These exercises teach you how to relieve the stress that builds up in your muscles and can help you feel completely relaxed. Our relaxation exercises are also very helpful to get rid of stress knots that can develop in your shoulders, neck and back.
We also have a page focusing on crying that may give you a different perspective of this natural form of stress relief. To relieve stress coupled with depression visit our light therapy page. To bathe your stress away visit our Epsom salt page. And to soothe stress and depression visit our aromatherapy page or try self hypnosis.
Learn how to relieve stress naturally with the stress relief techniques on this site. Clear your mind with imagery meditation and other stress management techniques at Tranquility is Yours. Discover the stress relieving body movements only experience through the ancient art of yoga. Learn how to relieve stress with breathing or relaxation exercises, and make a conscious effort to change the stress-filled messages you send yourself to thoughts that heighten your inner peace and tranquility.
It's also good to bring peace and tranquility into your environment. Surround yourself with beautiful tabletop water fountains, uniquely scented aromatherapy candles, and massage oils on our pages featuring tranquility products. Creating tranquil surroundings can help you stay focused on reducing the stress in your life.
Remember the stress relief videos at Tranquility is Yours. They are available to give you moments of
peace and relaxation when you are unable to escape the stress-triggers in your daily life. Visit the video page and use the tools at Tranquility is Yours to lean how to relieve stress naturally.