Tabletop water fountains are great stress relievers, because the sound of cascading water helps relieve stress. Select from the assortment of tabletop fountains below to help you create your own stress-free environment.
We also feature vibrantly scented aromatherapy candles, massage oils and spa stones focusing on relaxation and exquisite wind chimes.
Among the more popular indoor water fountains is the BluWorld Small Moonshadow Fountain to the right.
UNIQUE TABLETOP WATER FOUNTAINS
This classic Mediterranean jug silhouette tabletop water fountain features elongated shapes and curled handle and spouts. Water cascades smoothly from one level to the next creating a pleasant and stress relieving sound.
List Price $79.99
This uniquely designed tabletop fountain features water that flows from pot to pot down four tiers. It's self contained and made with durable poly-resin construction and lightweight fiberglass.  The cascading flow of water produces a soothing sound.
Price $46.54
A perfect tabletop decoration by Bits and Pieces. This indoor water fountain is lightweight and compact and can fit almost anywhere. The Water Lilly design features copper-colored metal blooms and metal leaves. You can add rocks (not included) or leave in its natural state.
Price $34.99
This tabletop water fountain is 16″ in diameter and 6.5″ tall. It's a copper bowl with 10 brass bells swirling to create the gently chime. It uses a continuous-duty pump and it's an indoor and outdoor fountain.
List Price $153.00
Water cascades down four lily pads on this tabletop fountain with a frog perched on top. It's 21″ high, 12″ wide and 13″ deep. The LED lighting is included and the water pump is included. It has a 6 ft. cord and is perfect for indoor and outdoor use.
Price $79.95
Create soothing water sounds with this HoMedics Relaxation Fountain. Ideal for meditation, improving concentration by masking distractions and reducing stress. The soft illumination is made of metal and plastic, and includes the main unit and water pump.
Price $19.97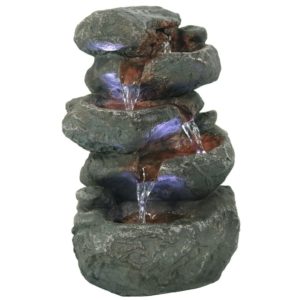 This durable resin tabletop fountain is carved to look like real stacked rocks with water flowing over each rock. It has a submersible electric fountain pump, built-in LED lighting and 4 attached foot pads.
List Price $44.95
Sunnydaze Stacked Rocks Tabletop
Water Fountain
This is an exquisite tabletop water fountain by Kenroy Home. It's made of natural slate and copper, and comes with polished river stones. It 19″ high 10″ wide with 6″ extension.
Price $94.04
A pitcher sits askew on the edge of the planter pouring water onto the plants (plants not included). The  70 gallon per hour pump submerges in the reservoir and has an adjustable flow rate, allowing you to magnify or lessen the amount of water flowing through the feature. Durable resin construction. One year limited warranty.
Price $93.94